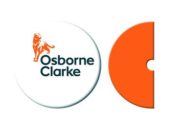 The firm prides itself on its friendly and approachable culture and this is very much in evidence during the recruitment stage.
'Going into battle', 'coming under fire' – descriptions of legal life may be riddled with martial metaphors but few would go so far as to draw real parallels between the life of a lawyer and that of a soldier. Yet for trainee William Pullan – formerly of 4th Battalion, the Rifles– there are several significant crossovers. "My working environment here is dry and warm," he jokes. "Quite different to the Brecon Beacons in January! But it's good to know that you can take the skills and communications you have learnt in a previous career and apply them here."
Osborne Clarke is very open, very collegiate, a high-support culture – this makes us attractive to people from non-traditional backgrounds
'Here' is Osborne Clarke, which has just snagged its second consecutive LCN Award for Best Recruiter – National/Large Regional firm. And while William's CV might make him stand out at some firms, he is by no means unusual at Osborne Clarke for having enjoyed a previous career.
Training principal Catherine Wolfenden explains that the firm actively seeks out candidates who have thought hard about why commercial law is for them and are not simply following the well-trodden path of: law at A level, law degree, straight onto an LPC. "Obviously, we do find exceptional candidates who have taken this route," she says. "But it's actually quite unusual to have thought hard about what it is you want to do and to be that certain from such an early age. While we're looking for evidence that candidates will have the intellectual agility and capability to be a lawyer – the law is after all an academic profession – we don't find it by looking at what university or LPC provider a candidate went to. We're looking for proof that they've challenged themselves intellectually; that they have the ability to think in a way that is more than just providing legal advice – the opportunity to explore commercial experience including through work placements."
Zoe Reid, senior recruitment advisor, backs this up: "Osborne Clarke is very open, very collegiate, a high-support culture – this makes us attractive to people from non-traditional backgrounds." Certainly, William found that his army career was no barrier to settling in. "There are people from all sorts of background in my intake – those who've studied law and those who've had other careers first. It's nice to have that mix." In particular, he was impressed with the tailored nature of the support he received – after he accepted Osborne Clarke's offer of a training contract, Zoe put him in touch with an ex-RAF pilot also at the firm. "It was really good to talk to him about how he'd made that transition," he recalls. "I remember thinking – they've gone beyond what's necessary here."
I believe that a firm with the size and stature of Osborne Clarke should be committed to growing and enhancing the legal profession as a whole
The firm's outreach efforts start with Zoe and the graduate recruitment team – they tend to visit between 10 and 15 universities from October to December, covering not only all the big law fairs, but also striking out alone by putting together their own presentation evenings in an effort to attract attention from those who might not otherwise consider a career in law. The team is also working to develop links with student law societies, an increasingly important part of its recruitment strategy. "Every legal discipline is different," Catherine argues, explaining Osborne Clarke's willingness to think outside the box and to recruit so widely. "So we need to have a broad cross-section of candidates. We are after a diverse mix, which will grow the firm in different legal areas. A brilliant tax lawyer has different skills and character traits to those which make for a fantastic IP litigator." She is under no illusions that this sort of diversity can happen without help. "Despite our best efforts, there will always be unconscious bias involved," she points out. "A danger that we might recruit in our own image. For that reason, we look carefully at the make-up of our recruiters and ensure that we have a wide variety of people involved at all different levels. Three members of the trainee leadership group read through applications after the first sift – initially we get hundreds – and we all talk through our choices and argue them to each other. At the assessment centre we have people involved from partners to associates. Osborne Clarke makes no secret of the fact that it is looking not just for academic excellence, but also commercial awareness and skills development. "In the application form, we want to see that a candidate can articulate themselves clearly and succinctly in the 250-300 word space," Zoe explains. "That's crucial." However, applicants need not panic. "We're not looking for the finished article – we are looking for evidence of raw talent, intellectual ability, the ability to strike up a rapport with new people, and the confidence to make themselves heard during group exercises. We want to see people pick up a business issue and run with it. As well as that, we want to see evidence of "soft skills" – that they're articulate and confident individuals." William went to a number of assessment centres and interviews – leaving the army and embarking on a career in law was not a decision he took lightly – but Osborne Clarke stood out for being a place he felt comfortable. "Even though there was the pressure that this was my number one choice, I always felt they put me at ease by the way they approached the process," he recalls. "And it works both ways – if you're at ease, people perform better. It was challenging – I was very aware that other people there are extremely high achieving – but the atmosphere was friendly and I came out feeling very happy with myself. Other assessment centres were not as pleasant."
As should be apparent by now, the resources needed to provide a good training contract – let alone an outstanding one – are significant. Catherine confides that she is often asked why Osborne Clarke doesn't simply recruit from the market, awarding jobs to qualified lawyers rather than training them in-house. "I believe that a firm with the size and stature of Osborne Clarke should be committed to growing and enhancing the legal profession as a whole," she argues. "One of the most significant ways we can do that is by investing in a high-quality training programme. We treat our trainees as trainees, not as paralegals – they're here to learn. We stress test whether each and every individual would benefit from doing a training contract with us – for this we have buy-in from the Executive Board down. Our trainees are the partners of the future – we need people who will build this firm."
This fighting talk is borne out by William's experience of his training contract so far and the quality of work he receives. At the time of writing he was in his second seat – banking – his first was in planning. "They're poles apart!" he admits cheerfully. "Planning was very advisory with a lot of research; I was working closely with clients, coming up with hundreds of notices for big infrastructure projects. Banking is a lot more transactional. While it's also client based, you see a lot more of other solicitors and there is masses of negotiation. I sit next to my supervisor – there's always someone to speak to, for quick questions. It's nice to have that safety net – you know you're doing the best for your client."
"In my opinion it's the best they could hope for in a training contract," Catherine asserts, when asked about the level of appraisal and support within the training contract. "The two years is more than trainees gaining their hands on technical experience,  it's about learning to become part of the Osborne Clarke family." Trainees can expect to receive a mid-seat and end-of-seat review; they themselves set objectives at the start of the seat and then take another look at these mid-seat, updating them as necessary. "For instance, at the start of this seat I wanted to improve my drafting," William recalls, "as there wasn't much of it in planning. Now I'm getting into bigger matters, the churn of documents between parties, the ins and outs – I really feel that I'm fulfilling that objective." In addition to these formal appraisals, all trainees have weekly meetings with their supervisor to check on workload and general progress.
Such investment is not indulgence; rather, it is an accurate reflection of the expectations placed on trainees and newly qualified lawyers – by both firms and clients. "They need to demonstrate commercial drive and business focus and to know what they want," Zoe maintains. "From our side, we're seeing a greater interest in a career as a lawyer – we now receive more applications than ever before. It's a highly desirable career."
Given this, it's perhaps little surprise that Osborne Clarke makes such efforts to set itself apart – fortunately, its main selling point appears to come naturally. "We are what we say we are," Zoe laughs. "From all our marketing literature to every single one of our interactions, we are a high-support, high-challenge environment. We are selling what we are – it's not a false dream. We are true and honest, and that resonates with people."
"Mark Wesker, the Bristol training principal, talked to us at our induction about when he was a trainee and the trepidation he felt," William muses. "And he remembered being told: if you make a mistake, we will make it right again. It's reassuring to hear that from the higher echelons of the firm – to know that if you give your all, they've got your back. For instance, if I send an email to a client, my supervisor might follow it up, just to supplement the background. Mistakes will happen – it's not a total catastrophe."
And while William enjoys the fact that he is considerably more comfortable in Osborne Clarke than in his previous army career, he's even happier to discover that the best aspects of military life can be found in a law firm too. "It's the teamwork," he says simply. "There, I was a platoon commander with the infantry; I was working with serjeants, corporals, riflemen and company commanders. Here, I'm in a department with two partners, associate directors and associates – everyone has a level, everyone's working together and there's that same sense of camaraderie."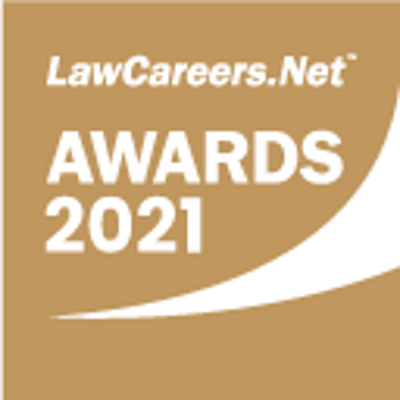 Best Recruiter – National/Large Regional Firm
The firm prides itself on its friendly and approachable culture and this is very much in evidence during the recruitment stage.