I was really surprised by the genuine interest that people took in the vac scheme students.
As a history student, Farrer & Co first-year trainee Rebecca Price made sure to take advantage of the opportunity to dip her toe into the water before committing herself to a career with any one firm. "I initially took a scattergun approach when applying for firm open days. I then was able to take a slightly more tailored approach to vacation schemes and ended up doing four in my GDL year," she laughs. "At first I didn't really know what I was looking for, but I quite quickly realised that very large City firms weren't for me; rather, I wanted to focus on mid-sized firms doing both interesting private client and commercial work. Farrer obviously stood out here – it was fascinating on paper and has an incredible history and interesting broad range of clients, so I wanted to experience that first-hand."
Our scheme gives the best exposure to what the firm actually does, the quality of the training and trainees
Anthony Turner, trainee partner at the Lincoln's Inn Fields-based firm, approves of Rebecca's approach; after all, the decision of where to train can be life changing. "Vacation schemes set the direction of your career," he asserts. "So not to do a variety of them is probably a mistake. However, sometimes that's easier said than done, as they can be very competitive and it's unlikely that you will be accepted onto every one to which you apply."
The firm's training principal Paul Krafft concurs that while acceptance is not guaranteed, that shouldn't stop a prospective lawyer from putting themselves forward – no matter where they are in their career. "What you will get from a vacation scheme depends largely on what stage you are at with your studies, but it will beneficial. For example, if you are unsure about whether you want to go into the law you will be able to see what work actually goes on in a firm and whether it interests you," he explains. "If you're slightly further down the line and have decided that a career in law is definitely for you, then you get to see the various firms first-hand and differentiate them from one another in a way that you can't by simply relying on what they say about themselves on their website."
As well as the firm getting to sell itself to prospective trainees, vac schemes provide aspiring lawyers with the opportunity to  make an impression in a way that a covering letter and CV – no matter how impressive – just cannot. "Doing a vac scheme undoubtedly helps the recruitment process, on both sides," explains Anthony. "It enables an applicant to speak with authority during the interview about why they want to work at your firm specifically."
Once you have cleared the first hurdle of getting onto the vacation scheme of your choice, how do you ensure that you make your mark? "I think the best thing you can do is go out of your way to meet as many people as possible," considers Rebecca. "There are normally three schemes every year at the firm, which means that you are one of perhaps 30 students, so you want to be remembered –and in a good light!" As well as being outgoing and personable, Rebecca urges vac schemers to push themselves: "Even if you don't understand exactly what's being asked of you, it's important you give it a stab."
"When the vac schemers arrive nobody expects them to be good at the law," confirms Paul. "What I look for is a willingness to get stuck in." Anthony has what is, on the face of it, a very simple request: "The best thing you can do to impress is to be normal! I know that's very difficult when you're junior and desperately trying to impress, but if you can relax while still being diligent you will make a great impression."
So, while the benefits of participating in a vacation scheme – or four – are clear, what makes Farrer's stand out? "Our scheme gives the best exposure to what the firm actually does, the quality of the training and trainees," Paul maintains. "I think Farrer is unrivalled in the quality of the breadth of work that we do and it's hard to appreciate that without being here." Without spending time at the firm it would be all too easy to underestimate the work it does," Anthony agrees. "There is a probably a presumption that we are more of a private client firm than a corporate/commercial firm, however we have a fantastic reputation for both and more than half of our firm is devoted to the latter. You might like that or you might not, but you won't know if you don't try it out."
Confidence, proactivity and practicality are really the three things that I look for in candidates
This diversity of practice areas was one of the first things that stood out for Rebecca while she was on her placement – that and the friendliness and warmth afforded her and her fellow vac schemers. Described by clients as a "likeable bunch", the lawyers at Farrer go out of their way to make their vac schemers feel welcome. Not only does the senior partner hold an introductory session for the students – offering them an insight into the firm and her role in it – but there are also various informal social events designed to encourage vac schemers to mingle with senior legal staff.  Rebecca confirms that there are numerous opportunities to interact with individuals at all levels: "It depends to some degree on when your vac scheme is, but I took part in the firm's annual firm-wide football match, attended lunches and went on a night out during my two-week placement. The current vac schemers took part in the firm's cricket match last week, then they have the football match and a night out next week – so they're being kept busy!"
As well as a full social calendar, vac schemers have plenty of work to get on with during their time with the firm. "Each week they are in a different department and are expected to muck in and take on the work – where possible – that would be given them as a trainee," explains Anthony. "They have an overall supervisor who looks after them during their time with us, and then in each team they will have someone who looks out for them and ensures that they're happy with the work given them. We try to vary the work depending on the level of knowledge –some will have law degrees, others won't, for example."
During Rebecca's placement she was given work that she found both fascinating and inspiring. "My first week was spent in the private client team and I recognised the name of the ultimate owner of a trust that I was working on which was really interesting to me," she recalls. "In the second week I was working in the charities department and did some research on the Human Rights Act and equality – it was fascinating."  To her surprise and delight she was also introduced to clients and invited to attend meetings.
The respect afforded its vac schemers is indicative of Farrer's egalitarian ethos and was further reflected during Rebecca's placement by the amount of encouragement students were given to interact with the firm's most senior lawyers. "We were encouraged by our supervisors and trainee-minders to seek out work from partners," she recalls. "There are no separate offices here, it's an open-plan pod system, so a vac schemer could be sat in the same pod as a partner – and, in fact, on my placement I was. Not only does this mean that there is no obvious hierarchical structure that prevents you from speaking with a partner, but in fact you wouldn't necessarily know who was a partner and who wasn't!"
As well as this friendly, inclusive attitude, the firm's commitment to offering a good work-life balance became evident to Rebecca during her placement – for her, this was the final piece of the puzzle when it came to deciding where she wanted to train. "There is such a great respect here for the work-life balance, and I really notice that this isn't the same for trainees at other firms," she enthuses. "Although I've had some very busy times, it is encouraged that if you can get off in the evening, you really should."
When it comes to selecting its trainees, Anthony explains that the key attributes Farrer searches for won't only be found in exam results. "Confidence, proactivity and practicality are really the three things that I look for in candidates," he reveals. "What I mean by the latter is that everyone who attends an interview will be intelligent, but what you want them to be able to do is apply that intelligence to the work they'll be undertaking. A client will call you up with a problem and will want practical solutions, not reams of law. So if a trainee can have a bit of interest in understanding a client's business needs, that's certainly impressive."
The firm acknowledges that the jump from studying to embarking on a training contract is a big one and it does what it can to ease its trainees in by providing a comprehensive induction programme and including them in firm life from the moment they accept their position. "Before our trainees start there are Christmas drinks and opportunities to meet trainees in the year above," explains Anthony. "Each trainee has a minder and a principal who is responsible for them throughout their training. If they have any issues then they can speak to the principal in confidence – it's not linked to a specific seat, but rather offers a higher-level eye over them," he continues. "They also have a supervisor in each seat, and then Paul and I are the training principals who have overall responsibility for the trainees. There is a lot of continuity and support throughout the two years and a net is there to deal with difficult issues, even if they t tend not to arise."
Rebecca believes that having this safety net provided by more experienced members of the firm enables trainees to fly higher than they might otherwise. "The team needs trainees to get involved and take on work," she argues. "That work is always monitored and we can run anything by our supervisors that we're not totally confident of, but ultimately you're encouraged to spread your wings as soon as you feel confident enough to do so."
Recruiting the brightest individuals who want to take on these challenges is what Anthony deems as the firm's success. It achieves this by encouraging an open, engaging interview environment in which candidates feel challenged but not intimidated. "We only take 10 trainees a year so they're not making cups of tea," Paul jokes. "They're doing proper work.  A lot of the more senior partners have trained at the firm and have come up through the ranks. We want to keep our trainees and so we invest a lot of time and resource in them." Rebecca, for one, certainly appreciates this investment and hasn't looked back since first setting foot in Farrer as a vac schemer: "The firm has exceeded my expectations and I feel very lucky to train somewhere with such a great reputation, which has such interesting diverse work and with such fascinating and kind colleagues."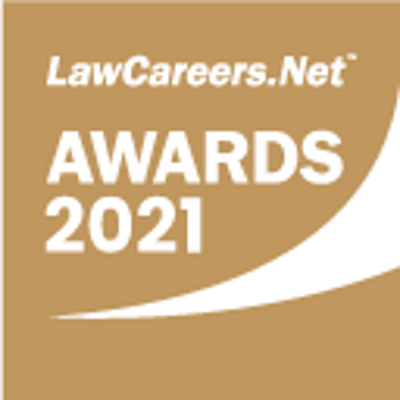 Best Work Placement Scheme – City Firm
I was really surprised by the genuine interest that people took in the vac scheme students.