The vacation scheme was an extremely valuable insight into life at the firm.
While DWF started life in 1977 as Davies Wallis & Co in Liverpool, a period of organic expansion means that it is now operating out of 23 locations around the world, with over 2,700 people. This is a legal business that knows something about carefully managed growth and the recruitment of its UK trainees is very much a part of that strategy. At the core of the recruitment drive is DWF's award-winning vacation scheme. Carl Graham, insurance partner and training principal, describes why it plays such a pivotal role: "While reading and researching a firm is important, on the scheme you get a true feel for the personality of the place and the people that you can imagine yourself starting your career with. It offers real insight into the personalities here and the fact that we genuinely don't take ourselves too seriously – we are not a stuffy firm. That can be difficult to convey unless you are sitting with the lawyers and seeing how they interact with each other and clients. So the scheme is absolutely crucial to finding the right people for the firm."
First, though, you've got to get the right people interested. Hannah Turner, now a second-year trainee, expands on what first caught her eye: "When I was studying at The University of Law, I attended a presentation by DWF and it really stood out from the others I'd seen. The growth of the firm was exciting and the graduate recruitment representative was clearly passionate about working there. He offered some very useful and practical tips for making applications, which were directly applicable to my situation. Also, I thought that I would be a good fit based on the type of candidate he described. It all helped to spark my interest."
We're looking for people who demonstrate enthusiasm and engagement, not just in terms of the work
She went on to take part in the Summer 2014 two-week vacation scheme, spending time in each of the real estate and construction, banking and business restructuring, and wills and probate departments. "I attended client meetings, including having the opportunity to discuss changes to a will and have a first attempt at drafting amendments," she recalls. "With each task I was given, someone always took the time to go through it and explain it to me – that was invaluable in terms of getting a true understanding of what was being asked of me."
Work placement schemes, no matter how thorough, don't win awards without including some high-calibre social activities and DWF's is no exception. Hannah was invited to join in a jam-packed itinerary that included rock climbing, pizza making, going out for drinks, and 'Friday Fridge', which occurs on the last Friday of every month and is a chance for the entire office to hear about what's been happening that month and informally spend time together.
Everyone involved with the scheme agrees about the single most important thing a candidate can do to get the most out of it – namely, engage with the process. James Szerdy, banking partner and graduate recruitment partner, emphasises the importance of being keen: "We're looking for people who demonstrate enthusiasm and engagement, not just in terms of the work – we appreciate that it is early in their understanding and development – but also in engaging with all aspects of the business. We obviously also keep an eye on their work productivity, but it's not the be all and end all."
Charis McGowan, DWF's emerging talent coordinator, agrees and adds: "The most important thing is for the students to get as involved with as many different things as they can. On our most recent scheme, some students were offered the chance to go to court and to client meetings. They need to grab those opportunities with both hands. Those who do will be the most successful in the process. Obviously we also want them to try their best with the work that they're asked to do; we don't expect the right answer every time, but if they can show that they're keen to get involved and they try, that will help them to grow." Finally, Carl has this to add: "You are joining a busy team, so make sure that they know you're there and that you're adding value. It's about getting to know the business and the people around you. Talk to them about what is involved, how things fit into the bigger picture, and show interest in why you're being asked to do something; that is what will impress and be remembered for the right reasons."
Hannah uses her own personal experience to back up this advice. "I tried to get involved with it all, including playing netball with the firm," she laughs. "I spent time getting to know the trainees and trying to learn more about their experiences of the training contract. Show enthusiasm and ask questions – everyone here is very receptive to that."
We try to immerse the students in the business; including giving them access to people at all levels
It is little surprise that such participation is a two-way street: encouragement and support are central to the overall approach DWF takes to looking after its summer students. "Each student is given a supervisor and buddy, but the entire department is there to welcome them in, give them work or just to go out for a coffee with," explains Charis. "Candidates are encouraged to approach partners throughout the scheme – being open plan helps with that, as there are no intimidating doors to knock on. The students quickly build up their confidence that way." James adds: "We tend to assign junior solicitors to buddy up with our vac schemers day to day, as they have most recently been through the recruitment process themselves."
Participation and buy-in from the entire firm are defining features of the process, so although students' first stop may be their almost-contemporaries, more senior lawyers are also very much part of the process. "We try to immerse the students in the business; including giving them access to people at all levels. And we have no trouble getting partners to help with the scheme, for example, the students are assigned a task to prepare a mock pitch to a panel of partners playing the role of the board of a major client," describes James. "There are also social events that include a partner dinner, which gives students the chance to chat to partners informally about what it's like to build a legal career and life at DWF."
Charis concurs: "There is very strong investment in our trainee recruitment from the senior partners, which I think sets us apart from our peers. James and Carl are involved throughout, as are many other partners, including our CEO and managing partner, Andrew Leaitherland. I think that shows real commitment to the process. We are all determined to get the best candidates possible, and to do that, they need to meet a wide range of people from within the business, which helps to inform their decision about whether they can imagine working here." Hannah adds: "We had presentations from partner heads of the sector groups, which brought home how happy they were to take time out of their busy schedules to talk about their roles within the business. Overall, we had great exposure to senior people."
This refreshing lack of a strict hierarchy continues into life as a trainee, as Hannah reports: "This is not a hierarchical organisation and everyone is treated with equal respect regardless of seniority; I have worked very closely with partners, including taking responsibility for some of their files and helping to run deals. Also, as we're open plan, I sat next to partners in two of my seats, which allowed me to see how they interact with clients every day." James confirms this impression: "We are a relatively young firm, which is dynamic and inclusive. Everyone within the business is approachable and contactable; there is no hierarchy as such, and I think that the recruitment process reflects that. We certainly hear that from candidates when compared to other firms' processes."
This dynamism is also reflected in the type of work that trainees can look forward to, from a fairly early stage. "Straightaway, we get trainees doing work of a level that a second-year trainee or NQ would expect. Our lateral hires tell us that our trainees do high-level, interesting work that trainees at other firms don't," explains Carl. "There will of course be times where the tasks are more mundane, but they're still contributing in a valuable way."
Hannah adds: "The level of experience and responsibility depends on the department, but I've been very busy in all my seats and have had the chance to get stuck in early on. Being a trainee here allows for true ownership. If you show willing you have the opportunity to get involved with big transactions from day one, managing files, running conference calls, and putting forward ideas and suggestions, all closely supervised of course. I certainly haven't spent the last year standing next to the photocopier."
Charis summarises where the vacation scheme sits within the overall recruitment picture and why it's so important: "We want to give candidates the opportunity to see what makes us different and experience the culture for themselves. We run workshops, allow them to experience live legal matters, and give exposure to senior members of the various teams. Of course we're assessing their performance as it is essentially a two-week job interview, but it works both ways. After those two weeks, they should have a well-rounded view of us and we should of them too." James agrees: "The scheme gives candidates two weeks in the business, offering them the chance to experience the culture and values of the business, and what it's like to work day to day in a commercial legal practice. It's an opportunity for the students to see whether they can imagine forging a career in private practice, and we get to showcase our people, work and environment."
The last word must go to Hannah. She reflects on what makes DWF such a good place to train: "I have got friends at a variety of firms, from high street to magic circle, so it can be difficult to compare experiences. However, certainly when I've talked about my experiences here, everyone is very complimentary. DWF definitely stands out as looking after its employees and offering great work. I felt very strongly that DWF was right for me after just two weeks on the vacation scheme. It has lived up to my high expectations, especially in terms of being a very friendly place to work."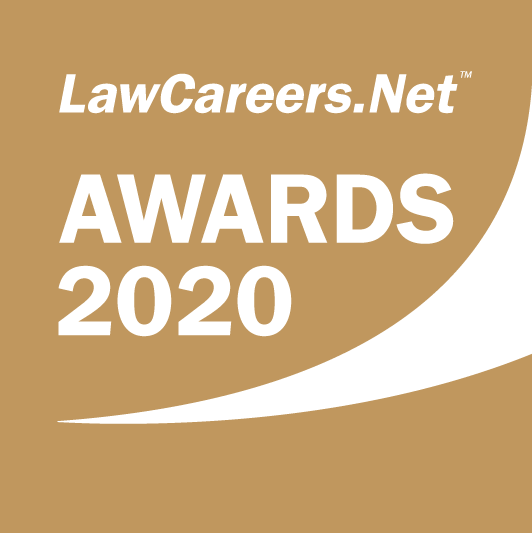 Best Work Placement Scheme – Regional Firm
The vacation scheme was an extremely valuable insight into life at the firm.